We encourage everyone to find the small group that best ministers to them. Home fellowships meet on weeknights and offer Bible study and fellowship, and they are a perfect way to get to know people better and to get deeper in the Word.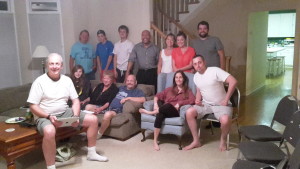 What the Word Says:
 So continuing daily with one accord in the temple, and breaking bread from house to house, they ate their food with gladness and simplicity of heart,  praising God and having favor with all the people. And the Lord added to the church daily those who were being saved. Acts 2:46-47
We have two Home Fellowships at this time:
Tuesday

nights at 7

pm

. The address there is 115 E. Third St., Trenton, IL 62293 (For contact info you can call Josh at 636-485-1813).

Friday

nights at 7pm. The address there is 101 Ladue Glen Ct, Chesterfield, MO 63017. (For contact info, you can call Chuck at 618-806-3788).